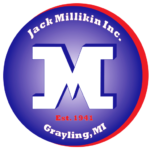 Septic Service Technician (full time, year-round) – Requirements: CDL Class A, tanker endorsement, clean driving record. An applicant for this position should have a general knowledge of basic plumbing skills and in the operation of septic systems. Job duties include: septic tank cleaning (including locating and digging up the tank), changing sewage and effluent pumps, portable restroom delivery and service, road grading (belly blade truck), snow plowing, etc.
Employment at Jack Millikin, Inc.
All employees at Jack Millikin, Inc. can expect a respectful work environment with a "Team" mentality with the following benefits: competitive wage rates, 100% Company paid health benefits, 401k retirement plan with Company matching, additional profit sharing, paid holidays and overtime.
ALL APPLICANTS: Should be seeking to work as a member of a "team", and work well with others. We are seeking team members who are passionate about their profession, and wish to utilize their talents for the good of the company and the community. ALL positions available require manual labor, and are difficult. Please. . . . if you are simply looking for a "JOB", and not seeking to contribute, DO NOT APPLY!!
Print Application >> or stop by our office at 4680 North Down River Rd. to pick one up.